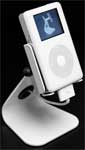 iPed2 Adjustable iPod Stand
Company: Thought Out
Price: $39.99
http://thoughtout.biz/iPed2.htm
One of the first iPod accessories that came to market once the iPod was released was an iPod stand. When a buyer spends as much money for an iPod as they do, laying it flat on your desktop is not the ideal way to treat it. There have been many, many iPod stands released over the last few years, but I think my search for the perfect stand may be over.
The iPed2 is a solidly built metal stand that can be adjusted for any iPod model, including all four generations of full-size iPods, as well as the iPod minis. (The company also makes an iPed for the iPod shuffle) It will work even if your iPod is in a case or skin, a useful feature that some iPod stands cannot boast.
The iPed2 is not only adjustable to hold the various iPods, but it also tilts up and down so that you can set it for easy viewing on your desktop. The base itself is very solid and, more importantly, wide. This keeps the iPed2 very stable, important when it is holding your iPod. Who wants an iPod stand that feels like it could topple over?
The vise that holds the iPod itself can be adjusted via included spacers/washers. When I first looked at the iPed2, I wasn't really impressed at how adjustments were made to support the various iPod models in or out of cases. The user has to unscrew a bolt via the included metal rod, add, remove, or change the different sized washers, and put it back together again. But after adjusting the vise/seat, I found the process straightforward.
The one drawback to this is that you adjust it to hold for one configuration, say an iPod in a case, then you have to go back and adjust it if you have multiple cases or don't always use a case. I personally have a few different iPod cases that I use, depending on my mood, and I don't want to have to readjust the iPed2 every time to accommodate it. It would have made much more sense to make the adjustments via a spring-loaded method, with no tool required. Lose the adjusting tool or the small bag of different sized washers/spacers and you're out of luck.
The base itself has a hole in the back for convenient USB or FireWire cord placement. This obviously is for dock-connected iPods, as the first two FireWire iPods are plugged in via the top of the unit.
All in all, even with the adjustable shortcomings, I really like the iPed2. I can see where improvements can be made in future models, but for what it is, I enjoyed the iPed2.