Chrome Ranchero Messenger Backpack
Company: Chrome
Price: $120 plus optional accessories
http://www.chromebags.com/ranchero.php
This established messenger bag manufacturer has been making top-quality products for a dozen years, and now Chrome is expanding its catalog to include custom computer cases and sleeves. I requested the loudest color backpack available, and here is a photo of me wearing it.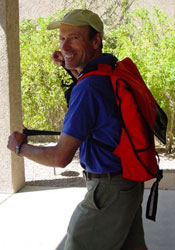 Unlike Brenthaven or other portable-office backpacks, Chrome's Ranchero is a single-purpose, one-compartment pack designed for a specific customer: the all-weather messenger/commuter. Heavy-duty nylon outer and rubber inner materials will protect PowerBooks and papers through a downpour (not easy to test in hot, dry, southern Arizona, so I'll have to ask David Weeks to hose me down instead).
Chrome provided a $15 generic computer sleeve for this review, saying their own custom sleeve is under production, to be available soon. I placed my iBook into Ranchero along with several pounds of miscellany, and headed out for a nice, long stroll.
This Chrome case needs to be well-loaded for its broad shoulder straps to hang correctly. The fit is different from any previous pack or rucksack I've ever used, and I'm gradually getting used to it. Weight distribution is fine, assisted by a molded back panel and ribcage straps, and my orange presence can be spotted from a hundred miles in the sky in case of emergency.
Extra pockets, you ask! Not many, aside from a few small flat zippered enclosures. As I said, the single drop-in pocket is large, weatherproof, and not much else. That's what makes it a messenger bag, right?
But wait, there's more – accessories. My Ranchero arrived with a $16 multi-purpose cellular phone holster that is just about the correct size to contain securely an iPod. A $12 radio holster completes the add-on lineup.
Chrome's web site has brief, emphatic descriptions of their durable, guaranteed-forever materials and construction. I have no argument with the quality or features of Ranchero, and it will be interesting to read how Owen Rubin and David Weeks evaluate their Chrome cases (each receiving a different model).
Ranchero is mid-size in a family group of three, with the baby called Dually and monster grandpa called Backbone. If you can identify any consistent logic in Chrome's naming system, please clue me in. Their bags are available nationwide via local retailers, or from the company's web site. If you have personal experience using Chrome (or any comparable messenger pack), we welcome your comments below.
A trio of suggestions:
• How about a better grab handle on top? The thin webbed-nylon strap is useful only for slinging Ranchero into a corner, and Chrome may be surprised to know how often I wished there was a lightweight padded or rubberized top handle instead.
• I have a pet peeve regarding pack straps dangling onto a floor or mud puddle, and Ranchero has more danglers than a county polling station in Florida. A few small Velcro dots could assist fastidious messengers to keep all straps high and dry, attached discretely to designated spots on Ranchero.
• You MUST audition Ranchero (and probably other Chrome packs) to determine if your physical build is compatible with the company's back panel and strap configuration. And this pack needs to be full for it to fit, especially if your form is lean and lanky.
If all goes well, and the price is right, you'll get years of use out of Chrome's Ranchero Messenger Backpack, rated at 4 out of 5 when fit and function meet your personal needs.