Chrome Metropolis Messenger Bag
Company: Chrome
Price: $120 plus optional accessories

http://www.chromebags.com/metropolis.php
The never-ending search for the perfect 17" portable laptop bag continues with the Chrome Metropolis Messenger Bag. Unlike John's desire to have a crazy color bag (see his Chrome review), I wanted something a bit more "professional" so I could carry it to work. As such, I requested either the black on black or the khaki on black bag; what arrived was a VERY large bag that looks more yellow then khaki, but in a design that is so cool, I had to try it out almost immediately.
The first thing to note about this bag is that is designed to fit over a specific shoulder. It can be ordered for either the left or right shoulder, but once ordered, that is the only shoulder on which you can carry it. The bag drapes across the back, supported by an integrated piece of material attached to the bag that goes over the chosen shoulder and is then attached to a well made, wide, well padded strap that cross over in front. Unlike other bags, this strap has what looks EXACTLY like a car's seat belt buckle (in fact, I think it is) on the strap which allows you to quickly release the strap and take off the bag.
This is a wonderful feature, as it prevents you from having to lift the bag over your head each time you want to remove it or put it on. And you can adjust the strap at the same place without removing the bag as well, often an important requirement as you change form bike to walking and back. Given that my bags tend to tip the scales at 12+ pounds fully loaded, I am happy for these features which made the bag easy to use. Ergonomically, this bag fits like a glove for the shoulder, and is incredibly comfortable as well.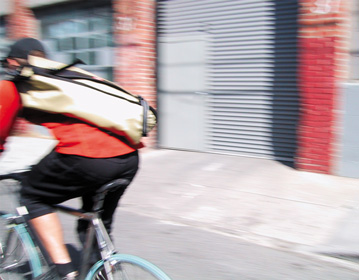 As I said, this bag, which is big enough to carry the 17" PowerBook, is quite wide, but fairly thin. Chrome makes an even bigger bag called the Kremlin, which I suspect would make my 5' 8" size look tiny alongside, so I did not opt for bigger is better this time. After all, they claim the bag I have can hold 2000 cu. in. of stuff, and that's a lot of stuff. The bag measures 26 x 14 x 7 when flat, but opens up very large inside.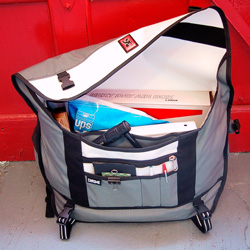 And when I say a lot of stuff, the box-cut bottom of this bag expands well to carry larger or bulky items as well as small ones, and seems to grow to accept just about anything you want to throw in there. My only worry is if I can still support it over my shoulder when it gets full. After filling mine with a 17 " PowerBook (almost 7 lbs to start), the power supply, a USB disk drive, a LOT of files, a bunch of DVDs and CDs, water bottle, cell phone, glasses, keys, personal items, and a half a dozen items I bought at the store, it was still very comfortable over the shoulder and on my back, even though I did look like I was on a day hike, and it WAS heavy.
There is no padding inside this bag, so items do poke through the sides. That was not so comfortable. And, to carry a laptop, you will need to order a laptop sleeve to protect the unit from damage while in this bag. Chrome has one for sale on their web site, but it would not hold my 17". However, they were kind enough to include a sleeve made by Tom Bihn a $30 add-on from one of their competitors for my trial. A very cool sleeve for a 17" I might add.
Chrome's bag is designed well and should stand up to extreme use and abuse. The outside is constructed of durable 1000d Cordura (a very strong synthetic product from DuPont and Invista, http://www.cordura.com) , the bindings are made to military specs, and the inside is made of 18 oz. PVC truck tarp liner! This bag should handle just about anything you can throw in or at it. Interestingly, both the shell and liner are completely separate, connected only by Velcro, so no matter how wet it gets outside, the inside should stay completely dry. Another nice touch.
But not all was great. Immediately missing for me were the outside pockets for carrying my sunglasses and water bottle, which I want easily accessible. Only Timbuk2 has gotten this right so far. However, given that this slings over my back rather than hanging on my side, perhaps they would not be so easily accessible anyway. There IS an extra hanging strap at the bottom of the shoulder strap designed specifically to attach accessories, such as a cell phone or radio holster (sold separately on the Chrome web site), but neither will hold my glasses or water! There is a rather large pocket on the high shoulder side that is designated an "external rain gear" pocket, but it is inside the flap, so will require removing the bag to access it. It is a well-hidden pocket though, so stash your secret stuff there to keep it secret. In fact, I did not even see this pocket until I read their website and realized it was there.
Also missing for me were any dividers or pockets inside the bag. This is one, big, empty BLACK HOLE that will cause your stuff to simply disappear to the bottom monster. The Timbuk2 bag I use now, which has dividers and internal pockets, still cause me to loose things to the "bottom beast", and this area is MUCH bigger than that bag. I expect to spend a lot of time searching for small items lost way down deep in this bag. My current bag also has inside pockets for small items, something this bag is desperately missing. There are several smaller pockets on the front under the flap though, so some small items can go there. One opens at the top, and another has a closing zipper. In front of those are three smaller, open top pockets for pens and smaller items. But given this bag lays across your back at a strange angle, I worried I would loose things while riding a bike. There is also no key holder or strap, a badly needed feature given those keys, like other smaller objects, will disappear into the bottom of this bag.
I was not also completely satisfied with the way my PowerBook fit. Unlike other bags, designed with a laptop in mind at design time, in this case, the padded sleeve just drops into the "hole" and can easily thrash about inside the bag, or bang against other items sharing the same space. Having this thing move about while slung over my back, especially if I was riding a bike, made me a bit nervous for the safety of my computer. And as nice as the sleeve I received was, I do not think the computer would survive any kind of fall with this combination. There is also no extra bottom protection, so one must be careful when setting down the bag. While I like the bag a lot as a messenger bag, it is not a computer bag by any means. Additional extra padding and protection is needed before I would call this a laptop bag at all. A thin sleeve is just not enough to protect most computers these days.
Using the bag was straight forward, once you figure out what all the buckles and straps were for, because there are so many of them hanging all over the place. There are, of course, the over the shoulder straps with seats belt buckle. On the front flap, there are two "snap" plastic buckles, which, when the flap is closed, are secured by two straps with a matching buckle; not really needed because the flap stays closed firmly with Velcro anyway. But just below the flap on the front were two more plastic buckles like the ones on the flap. I had to do a bit of searching to realize that these are there to hold items too large to fit inside the bag, like a long cardboard tube. Simply put the tube on the outside front of the bag, use the flap straps and buckles to hold the tube firmly in place below the flap, leaving the Velcro to hold the flap closed. A nice touch actually. Along one edge of the bag was another strap with two more buckles that I assume are also to hold more items, and they look as if they connect to a buckle on the other side of the bag. I suspect this can also be used as an around the wait stabilizer connection point, but it is not clear to me how these worked, and there were no instructions on any of this.
All that said, this is among the best of the messenger bags I have used to date. If your not carrying a laptop, or are not riding a bike while carrying your laptop, this is bag hits a solid 4 out of 5. If you plan to ride a lot of bikes, make sure you buy the best sleeve you can for your laptop, as this is not enough protection in my view. Meanwhile, my search continues…