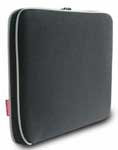 MaxSleeve Impact Resistant Protective Sleeve for Apple PowerBooks/iBooks
Company: MaxUpgrades
Price: $23.50 – $27.50
http://www.maxupgrades.com
PowerBooks and iBooks are meant to travel, and need protection when out in the wild. Scratched cases are no fun, and dropping an unprotected 'Book is even less fun.
Some travelers prefer the protection of a hard-sided suitcase, and some like the traditional padded shoulder bag. Other travelers prefer to slip their computer into their briefcase or carry-on suitcase.
MaxUpgrades' MaxSleeve is targeted at users who prefer slipcases. The MaxSleeve is also designed to provide protection for short carries around the house or office.
The Weeks Division of MyMac labs evaluated the MaxSleeve for the 15″ PowerBook, and came away favorably impressed. Made of dense foam, the MaxSleeve is a zippered, form-fitting slipcase for your PowerBook or iBook. MaxSleeve is available for 12″, 15″ and 17″ PowerBooks and iBooks.
MaxSleeve was designed with attention to detail. The zippers never come into contact with the computer, to avoid scratches when closing the sleeve. Two zippers are used to allow closing from either direction. MaxSleeve is made from foam dense enough to absorb minor shocks. However, be advised the MaxSleeve is not designed to provide the same level of protection as a traditional carrying case.
It's attractively designed in plain black, with grey piping around the edges.
When closed with a computer in it, the MaxSleeve is roughly 1 3/4″ wide, so it won't take up much space in a briefcase.
Complaints? My only kvetch (a minor one) is that there's no easy way to attach any identification tag to the outside of the MaxSleeve.
Conclusion: If you're in the market for a sleeve protector for your iBook or PowerBook, I recommend the MaxSleeve. It's a well-designed accessory.