Disc Shredder DS360
Company: Primera Technology
Price: $129.95
http://www.primera.com
Need a little crunchy roughage to enhance your breakfast cereal? Or some sparkling tinsel for holiday decorations?
Could you use a nifty office accessory that guarantees a "Whazzat?" from each visitor? Or something for your kids and grandkids to play with that teaches them about product safety, media security, and environmentalism?
Primera Technology solves all these dilemmas, plus one more, with its practical, affordable new DS360 Disc Shredder. Now you finally know how to dispose of your incomplete CD/DVD burns and your outdated data/music/video archives. Just remember to observe the icons on the shredder, warning you to keep fingers, hair, and neckties (who still wears one?) out of the input slot.
Unpacking and setup take a couple of minutes. More time will be needed to decide where to locate this attractive, strange-looking little machine. I'm temporarily keeping it on top of my scanner/copier/printer (see photo below) which is not a practical long-term installation.
Oops! I just read safety note #3: "Keep this device out of the reach of children." Bad news, kiddies. But I also learned that credit cards and folded paper can be shredded, which is better news for all of us.
DS360 comes with a one year warranty. The unit is compact, but substantial, weighing nearly 14 lbs., or over 6 kg. Design is sleek and attractive. Shredded material accumulates in the output basket, which can hold a lot of shreddings (is that a word?).
Here's a photo of six CDs after DS360 has digested them (each disc is consumed in ten seconds). The process is fairly loud, so you can really annoy your colleagues or family members — otherwise position DS360 in a somewhat out of the way spot.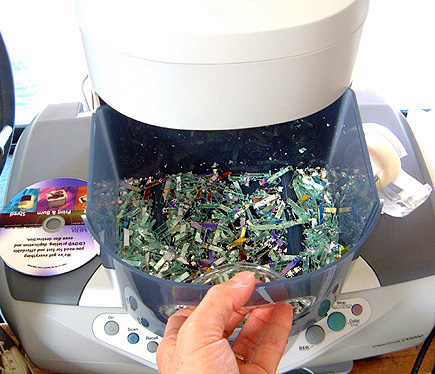 Primera Technology is the manufacturer of the Bravo family of CD/DVD duplicators/printers, reviewed favorably in MyMac.com and elsewhere. David Weeks and I had suggestions for improving the Bravos covered to date, and we look forward to evaluating additional products from this innovative company.
There's nothing to criticize on their Disc Shredder DS360, so MyMac.com is pleased to give it our highest rating, 5 out of 5, when used as directed!
Time to invite the neighbors over for a shredding party. Let's hope nobody mistakes some shreddings for munchies.