Is That Toast Burning?
Toast Titanium 6 With JAM.
Company: Roxio
(Winner of the 2004 Macworld Best of Show awards)
Price: $169.95 retail
Upgrade from Toast 6 Titanium: $89.95
JAM 6 Only: $89.95
Years ago, if you said Macintosh and Toast in the same breath, I would think of Berkeley Systems Flying Toasters screen savers.
Today, when I hear someone say Toast, I think of only one product, Toast Titanium from Roxio. And if you into creating CD's and DVD's, you need Toast with JAM, an improvement over an already great product.
I have been a long time Toast user and continue to use Toast 6 now on my 17" PowerBook with its built in CD/DVD burner. Toast 6 (w/ Jam, which I will cover below), continues Roxio's improvements from version 5, with improved interface design, better video capabilities, and a new network feature allowing one to burn a project from a computer without a disc burner on a system that has one over the net. I originally thought this was a stupid feature, but when I needed to burn files from an old G3 tower to a DVD, I was amazed at just how well this idea works. And it works a whole lot better than the built in burning either in the Finder or iTunes.
Toast 6 Titanium:

VIDEO

Toast 6 adds much easier burning for video over previous versions. With the inclusion of an MPEG-2 video/audio encoder, in addition to VideoCD (VCD) which Toast 5 could do, you can now also burn Super Video CD (SVCD) and DVDs. If QuickTime can play the video, you can have Toast convert (trasncode) it into MPEG-2 and burn it to one of several format discs. Toast even includes a way to add a menu driven user interface to these discs, making them much more "consumer player" friendly as well, especially if you have multiple videos on one disc.
Also note that a new update on the Roxio web site now supports multiple layer format discs, so menus might be even more important given the new capacity of almost 9 GB!
My only complaint with creating DVD video is just how long it actually takes to do this encoding. Unless you have a dual G5, you will need to start your encoding project and go away for several hours or more to encode, NOT counting the additional time needed to actually burn and verify the disc. Especially missing here was an indicator of how much time remaining there was in this process.
I would also like to see better DVD menu capabilities. In addition to Toast, I occasionally use Nero on the PC. I would love to see Toast add features similar to Nero's DVD creation abilities, including the ability to add video buttons and backgrounds in the disc's menus.
I was also disappointed that I did not have better control over the video encoding quality, being limited to only two settings. I was also disappointed that the actual encoding rates being used are not displayed anywhere, since this is such basic stuff.
For those looking for a way to get video off their DV camcorder and onto a DVD or CD, Toast 6 now includes a direct to disc feature called Play & Burn. Plug in your camera via a firewire connection, and transfer your video directly to any format disc that Toast and your burner support. I have stacks of DV tapes from vacations and such, and this was a great way to free up the tapes without having to sit in front of the editor for a long time. Now, of course, I have a stack of DVDs, but they are smaller and cheaper!
AUDIO

Not much as really changed in the audio area, and one can still make Audio CDs and MP-3 discs. You can now also make a "mixed mode CD" as well.
The audio capabilities allow a user selectable delay between tracks, and Toast displays the track time and total time used as you add files to the disc.
CD Spin Doctor 2 is an updated version of an included application to allow you to digitize your analog music (tapes, records, etc.) It reduces analog nose such as pops and clicks, and includes some filters to enhance the sound.
Toast 6 also includes a Universal Audio Converter that lets you create audio CDs from a number of different sources, including WAV, AIFF, MP-3, ACC, or any iTunes track.
But if you are really into some great audio features, you need to add JAM. See below.
BUTTER MELTING INTERFACE

Toast 6 has improved their interface with some new features, including a more Macintosh like tab interface system for the 4 basic functions: Data, Audio, Video, and Copy. Gone is the "Other" category from version 5, which was basically the video tab anyway. Drag and drop is still supported well, so burning is really as easy as dragging your files into toast and pressing burn.
Choosing between a DVD or CD as the target has also become easier. Simply click on the small button above the record button to toggle between the two choices. A small button above and to the left of the file list pops open a slider drawer along the left window edge with BASIC and ADVANCED options for the current selected setting. A small question mark at the top right brings up help if you get confused. (If you are really confused, the 100+ page "Getting Started" guide is a great aid to understanding this program.) Lastly, at the bottom is a LARGE record/abort button surrounded along the top left by a visual indicator of how much space is used on the disc. To the left of this is an indication of the drive currently selected.
I also really like the small button to the right of the drive name. If you have multiple drives, or if your drive was disconnected (like a firewire drive) simply click this to rescan or select another drive. This is also the place you would select a network drive. Note that these options are also available after you press burn, in the first dialog that pops up.
However, I have a number of complaints on this new interface as well. For one, Roxio is inconsistent with the use of buttons and controls. While most of the buttons and controls respond and highlight when you roll over them, some do not, and many highlight differently. It is also not obvious you are supposed to click some of them. The DVD/CD switch button is a prime example of a button that does not respond like the other in the window, so switching from a DVD to a CD was not so obvious. This button should highlight like the others when you cross it. And the recorder selector is the only green button, while most others are blue.
Also, the new indicator that displays the used and free space on the disc I also find mostly useless. Unlike older versions, which had a long bar that turned red to clearly indicated you were over the maximum for that disc, this one simply goes to the full point and stops changing, regardless of the number of files you continue to add. You do not know you have gone over the limit or really by how much with this indicator. At the least, this bar should turn red when you go over the capacity of the target disc. Also missing from that display is the amount of space you have filled on the disc, which use to be right next to the bar indicator in previous versions. This info is still available, but has moved into the file window where you add files, so it was not so obvious at first. I would like to see them bring back the old indicator style as it told you a lot more info all in one place. And it must have been good, Nero copied it into their program!
Lastly, while a large RED record button is OK for starting the burning process, turning the button blue while the burning is in process did not make sense to me. Especially because pressing it aborts the current burn. Somehow, pressing a blue button should not do something that can ruin your data, especially since many of the other controls are blue in their normal state as well.
Lastly, this version is badly missing progress indicators. Since many things can take a long time, especially encoding and burning DVDs, an indicator of progress AND time remaining in that process would be great additions. Strangely enough, on occasion, the time remaining does appear, but I am not sure why and when. Unfortunately, this time remaining indicator is often way off the real time. For example, when trying to burn a 4X DVD the other day, it told me 12:42 (12 minutes, 42 seconds) to burn remained. 5 minutes later it said 10:57. I was expecting to see the seconds indicator count down by seconds. They did count down, but very slowly. I can only assume my disk was not burning at 4X, but the program should have noted this and adjusted the time remaining just like the Finder does on a file copy.
DATA

Toast 6 adds some interesting data features as well, including the ability to "Toast-It" from the Desktop. As part of the contextual menus in the finder, you can now select an item and burn it directly to disc without any "pre-flight" steps in Toast. Personally, I am not sure I would ever use this feature, and often selecting it did nothing for too many different reasons. And when it does not work, it does not tell you why, it simply does nothing.
Data features also include 128-bit encryption and password protection, and compression to gain 50% more space on the target disc (the claim.) In my tests, compressing data files, which included no audio or video got nowhere near 50% comression.
Toast also includes a program called Deja-Vu, which will automate Toast 6 Titanium to backup your data, and can even use the built in security to protect that data on the backup.
PHOTOS

Toast 6 also includes features for supporting photo discs. With a small application called "Motion Pictures", you can turn your still photos into a media display with pan, zoom, cross fades, and soundtracks, much like iPhoto displays them, but now on a DVD or CD. In fact, there is support to drag photos directly from iPhoto into Toast and create VCD, SVCD, or DVDs of slide show photos.
BURNT TOAST

For creating discs, Toast continues to support a wide range of CD and DVD burners, both internal and external, including USB and Firewire models. (I wanted to test support for a SCSI drive, but my SCSI card stopped working.) With "ToastAnywhere", Toast will use Rendezvous to discover burners on shared machines on the local network, or you can even burn to an external IP address where you may know a shared drive lives. One word of caution here: Given that Toast needs to move a lot of data without delay to burn a disc successfully, trying to burn across a wireless network, or even across the internet may be less than successful most of the time. If the data is late, the burning disc becomes a coaster. This feature is best kept to wired, local connections to avoid problems. Besides, who is going to install the next blank disc for you if you try to burn at home from the office?
PUT SOME JAM ON THAT TOAST!

So if Toast does all this, why do I need Jam?
If you are into making music CDs, or adding music to your videos, Jam offers additional features above what Toast can do. JAM adds 4 components that basically turn Toast into a powerful production, creation burner suite of tools.
First off, JAM 6 allows you to create "DJ-style" mixes and professional quality CD masters. And with JAM, you can burn directly without using Toast.
JAM adds native support for very high quality files, up to 192 kHz at 64 bit audio. JAM also adds the ability to do enhanced cross fades as well, with individual fades in and out, and the ability to adjust the gain of each track separately. In addition, you can auto-normalize the gain, trim track data, insert, edit, or delete index points, enter sub-code info, and print track sheets.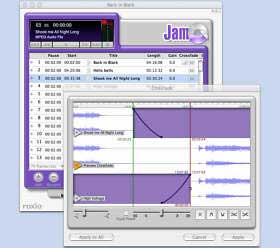 With Jam, you can also create DVD's with Dolby Digital Sound. You can also fit over 2 hours of video on a DVD without a serious reduction in quality, and get frame accurate audio synchronization.
Jam also lets you create even better music DVDs, which are playable on standard DVD players. This is NOT DVD-Audio disc, which would require a special player, but rather a standard DVD that should play on almost any player. Imagine a DVD with over 36 hours of music on it. Forget hooking up you iPOD to your stereo, simply take your iTunes music library into JAM and create a 36 hour-long music DVD. But even better than using an iPod, JAM creates on the DVD on-screen menus so that navigating all the songs on that DVD is simple and easy. Even more cool, if you put all the track info (tags) into iTunes, and you have also added album cover art for your music, JAM will create a DVD that will display both the art and track info on the TV screen while the DVD plays the music. Get that from an iPOD!
JAM also includes Peak Express 4 software, the same product included in Apple's FinalCut Pro to edit and enhance music files and sound tracks into home videos.
THE BOTTOM LINE

This is one of the most feature packed CD/DVD burning software available anywhere. While it still has a few improvements it could use, what software does not. And not one of these "problems" makes this program unusable in anyway, just occasionally annoying, which one can easily learn to ignore. If you have a CD or a DVD burner on your Mac, you need to own Toast. And if you want the coolest audio features seen anywhere on any machine for a CD or DVD burner, Toast with JAM is a must.
MyMac rating: a SOLID 5 out of 5. I would not be without it on my machine.