Prosoft Engineering Data Backup v.2
http://www.prosoftengineering.com
$59 US
URL for this product
Part One of a Two Part Review

Admit it — you rarely or never perform a comprehensive complete backup of all the precious data on your Macintosh. You've heard it's important, but the software is expensive, difficult to use, and a lot more inconvenient than burning CDs of your Photoshop and word processing files. And now, with OS X, everything is much more stable on your monster hard disk (you a-s-s-ume), so an infrequent drag-copy onto a handy dandy FireWire external drive suffices as cheap insurance.
Baloney. Serious power users buy and run mission-critical, task-specific backup applications very frequently, often daily, and they develop reliable, redundant, rotating sets of restorable backups that are stored securely offsite. A couple of less-than-intuitive apps have existed for ages that experienced Macintoshers rely on for backing up and restoring everything.
Into the ring strolls Prosoft's Data Backup 2, developed for OS X. We're reviewing it in two parts, because we first want to make you aware of its existence and basic features, and then we'll report on extensive real world usage. David Weeks and I spent a day with Data Backup 2 (DB2), and our initial comments are favorable, with a couple of important questions.
We were surprised to observe no printed material whatsoever in our packaged retail equivalent box. Why doesn't the manufacturer give people a QuickStart pamphlet, since everybody is new to DB2? How can all of us newcomers know where to click and what to do without requiring emotional therapy afterward? This backing up business is already looking too complicated.
(Answer: Prosoft tells MyMac.com that such a printed guide should be available now, or very soon.)
A 34 page PDF manual is included. The instructions are helpful, concise, and informative. Additional files include a basic Read Me and an uninstaller. Prosoft's website contains a thorough FAQ, which we urge you to read along with your study of the PDF manual, once you print it out.
Installation was uneventful on David's dual processor 1.42GB G4 with 1GB of memory running OS X Panther 10.3.3. An admin password is required each time DB2 is used, to make sure renegade visitors don't invade your privacy.
David suggests you CLONE your entire drive to an external destination upon initial setup, especially now that affordable FireWire drives are available with tremendous capacity. This process will take a long time! David's "WildGeeker" primary HD contains 107 GB of data, encompassing 242,066 files. Wowzer. "Go plant some cacti, David and Nemo," says Nancy Weeks. "See that big patch of open desert out the window?"
You can use your computer for other tasks while DB2 is cooking. A blue progress bar, listing files being processed, is at the bottom of the open backup window.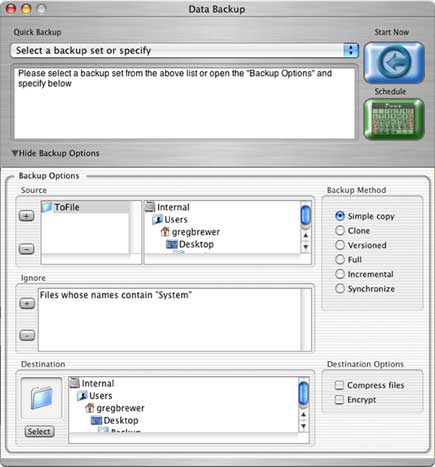 Subsequent "Quick Backup" operations will typically use the INCREMENTAL feature. DB2 has no Menu Bar preferences, but plenty of options reside within the large backup window, including:
* Versioned, Single Copy, Clone, Full, Incremental, or Synchronize
* Entire, All Non-System, All User's Folders, All File For Current, or All User's Documents
* Very flexible Scheduling interface
* Choices for Source and Destination
Quick Backup has ample default settings for most users. David approves the IGNORE ITEMS feature, but he can't yet figure out how to bypass selected folders. Our follow-up review will deal with advanced features in DB2 once we use it for backing up and restoring during the summer months, so watch this space!
Prosoft has engineered DB2 so it completes a backup cycle even if the application quits. How is this possible? We're intrigued, and we'll test it ourselves soon.
The procedure to create a bootable copy of our Mac OS X hard drive is not obvious to us (see comments below). Experienced geekers and newbies will find the process to be unfamiliar and tedious. Request! Please, Prosoft, refine this method for streamlined clarity, to encourage all of us to have safe, secure bootable duplicate drives.
(Answer: Prosoft tells MyMac.com it should be easy:
Drag internal drive icon to "Source" bin. Then drag external or network drive to "Destination" bin. Check off "Clone" and hit start. That's all there is (or should be) to it.
We'll try it and let you know the result in part two.)
"Backup, Made Easy," is Prosoft's motto, and we agree, almost. Newcomers will still be intimidated unless some easily accessible printed hand holding is obviously attainable.
A 30-day trial version of Data Backup 2 is available from the Prosoft Engineering web site. We tested the Uninstaller, which worked quickly and completely.
Gordon Bell, product manager for Prosoft Engineering, tells MyMac.com in an exclusive email:
Our goal with Data Backup 2 (first release) was to get a product out that was on par feature-wise with the "old" Data Backup X (not only because that was a good starting point, but also because we had a large customer base that wouldn't want to lose a bunch of features on an "upgrade").
Data Backup 2 was indeed a free update for all our former Data Backup X users. The main differences are UI changes (we get a lot of compliments on how we've made a nicer UI).
However, our work is not done!
We will soon be releasing a new version with some of those features we've always wanted to have…. CD/DVD Sessioning and Spanning. There are a few other yet-to-be-announced features coming soon too… Very cool ones indeed. Oh, and these new features… All included in a free update to current users (we don't believe in gouging our customers every time we add new stuff in).
David's phase-one evaluation is:
A solid intermediate-level backup utility, easy to use and configure. DB2 is has decent, average, built-in features, but no elaborate scripting capability, which is probably a plus. For synchronizing disks and folders, for moving data between desktop and PowerBook, for a dozen other reliable uses, my rating is 4 out of 5. We're looking forward to digging deeper.