Other World Computing Laptop Screen Protector for 17" and 15" PowerBook
Company: Other World Computing
Price: $18 US
www.MacSales.com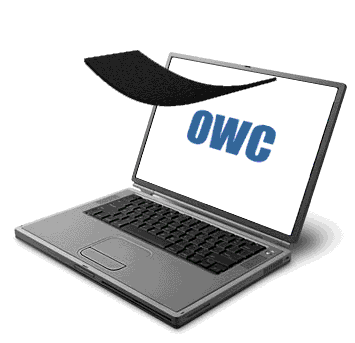 with help from John "Nemo" Nemerovski
I am a long-time user of Other World Computing's LSP-15 PowerBook screen protector with my 15″ Power books. It's designed to protect laptop screens from picking up grease and oil from the keyboard while the 'Book is closed. Recently, I had a chance to try their LSP-17 model on an aluminum 17″ PowerBook.
I was not a bit surprised to find the thin leather sheet was equally good at protecting the 17″ screen as their 15″ version does with the smaller screen. Finger smudges and marks from the odd flying bit of food are things of the past. Let's not talk about computing if you are prone to sneezing while at the keyboard.
Why not use a sheet of paper or thin packing foam? The OWC protector is far more stylish. Besides, you'll never get paper cuts or outgassing!
Nemo says:
Very succinct, David. May I add that some fairly serious damage can be done to a laptop's screen if it's not adequately protected? A MyMac.com reader tells me: "I purchased my own home laptop three years ago and for the past year or so it's had several obnoxious, permanent marks on its screen that are all perfectly in the shape of the keyboard. It's not just dirt, grease or dust — the screen has actually been damaged and I can't get the marks off." He wishes he purchased an LSP back when he got the computer, to prevent the problem.
Do you have concern that laying a piece of leather down on your precious keyboard and then closing the top will strain the joints and possibly damage the PowerBook's hinges? OWC specifically designs its LSPs to be thin enough so as not to cause any strain.
With no moving parts or required tuneups, Other World's LSP is also designed not to crack, shed or leave lint on a keyboard over time. It doesn't need any treatment or maintenance, and is glove-soft, high-quality genuine leather. Cleaning, if it becomes necessary, may simply and easily be performed with a damp cloth.
Apple retail stores carry a competing product from Marware, with slightly different design and construction. (Sorry — I can't locate it on their Marware.com web site.) The choice is yours.
For such a small price, you'll be glad your computer has this essential protection. Easy to score at 5 out of 5 on our MyMac.com ratings.