HP Color LaserJet 3500 Printer
Company: Hewlett-Packard

Price: $800.00 (rebates are available, so shop wisely)

http://www.hp.com
Hewlett-Packard listened to MyMac.com. Our reviews of the predecessors to their latest SOHO (small office / home office) color laser printers identified annoying problems requiring remedial re-engineering. This new LaserJet 3500 includes many improvements over the 1500 and 2500 series, plus a few ongoing matters of concern.
Size matters. LJ3500 is big and heavy. You'll need an agile, strong helper (or really substantial muscles) to maneuver the printer out of its shipping carton and into position on your worktable. I did it all by myself, and I'm in no hurry to attempt it again.
Printed setup and installation instructions are adequate, but they may confuse you at first if you've never unpacked a color laser printer. Take your time, call HP tech support if necessary, and don't rush or skip any steps. When you close the huge front "jaw" assembly and hear an ominous crackling or "breaking plastic" noise, you're doing it correctly and your first prints are minutes away.
Here are several photos, in sequence, taken from unpacking LJ3500 to placing it on its printer stand.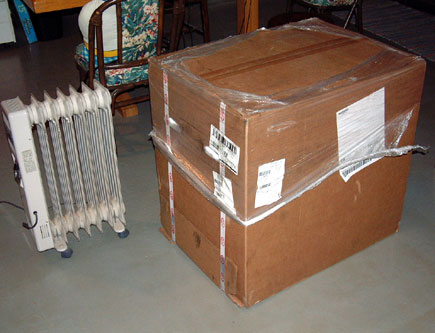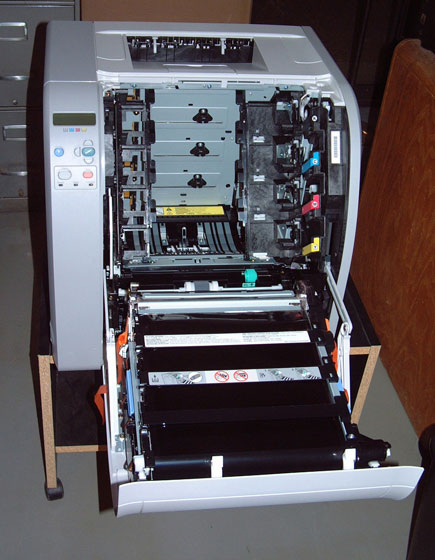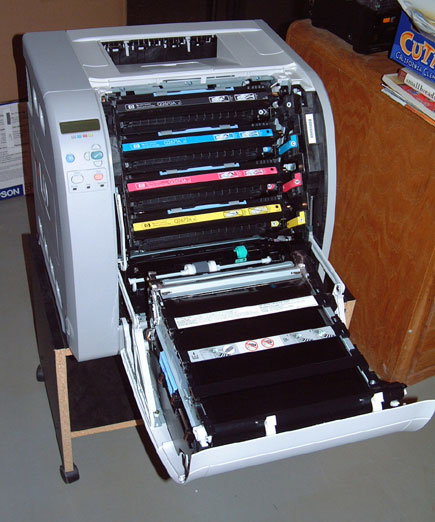 Software installation is quick and easy in OS 9 and X (Panther). HP's driver was version 1.2 during our review period, with the same number applying to both Mac operating systems. OS 9's Chooser recognizes the printer software more easily than does Panther's Printer Setup Utility, which should be corrected soon, according to HP. In OS 9, HP places a small software component that delays slightly your startup sequence and (ugh!) retards Apple's automatic Sleep feature by up to one hour, even if the printer is not switched on. Please fix!
HP's custom printer dialog boxes both in X and 9 have annoying idiosyncrasies that we're not going to tackle in this evaluation. Love 'em or hate 'em, we're stuck with 'em, which is not a serious demerit when a printer is a winner.
Our review LJ3500 demonstrated some peculiar shifts in color hue and intensity. HP staff worked patiently for hours with MyMac.com to troubleshoot, affirming the company's commitment to innovative products and first-rate support.
Once we obtained a complete spectrum of color printouts, they met our expectations. Colors are rich and full, and greyscale images also look great. Text is as sharp and clear as on any printer we've seen. This model excels at producing printed presentations, as opposed to artistic creations. Annual reports or album covers or holiday letters, among a thousand possible examples, find the printer's sweet spot.
When we finally saw optimum color printouts from LJ3500 we were impressed. You can use this printer for professional-quality display documents, and they will have immediate impact.
If your computer is new, fast, and powerful, LJ3500 turns out results quickly, with consistently fine results, but text prints not as speedily as from an all-black SOHO model. Prints from older and slower computers take a little longer to emerge, which is acceptable given that the printer taps a computer's processor and memory. HP's aggressive pricing for their SOHO units is extremely affordable on account of this "host-based" architecture. Be aware: published print speed specs are biased toward Windows XP, which is optimized for host-based printing, from our experience.
Color LaserJet 3500 powers up quickly. Cartridge cycling and paper feeding are quiet, finally! Low-power energy saver mode is totally silent (amen). Toner replacement and two-tray paper feeding are straightforward. You can read a review comparing LJ3500 to its competitors in the current print issue of Macworld magazine (to be posted online within a month, I expect).
A small LED display gives access to many little-known and hidden power-user features that are beyond the scope of this home office review. The printer's on/off switch needs improvement, because its flush-mounted toggling is inefficient and clumsy to operate.
HP maintains a dedicated Mac-Connect website for all Macintosh compatible items, and we encourage you to visit it frequently. The company promises more hardware at every price point in 2004 and beyond, as they enthusiastically embrace Apple computers.

In Summary:
For $800 you can't beat LJ3500, but make sure you read Tim Robertson's review of a competing Lexmark printer. When consistent color quality is at the top of your wish list, this LaserJet 3500 is HP's most affordable unit. If black text is your primary requirement, buy a monochrome printer. In spite of a few grumbles, we'd be glad to own one (until it's replaced with something lighter, perhaps?).
MyMac.com rating of 4 out of 5.