Hoodman Eclipse E2000-15 Sun Shade for PowerBook
Company: Hoodman Corporation
$28.95 US
http://www.hoodmanusa.com
Most people stay indoors to use computers, but now and again PowerBookers and iBookers need to compute in the great out of doors. Flat panel LCD screens are not known for their viewability in direct sunlight or even in the shade here in hot, dry, Tucson, Arizona. Hoodman's Eclipse E2000-15 for PowerBooks was created to solve this problem.
Clearly this is one product where form follows function, meaning extra fashion points are not awarded. The Eclipse looks like an oversized Mickey Mouse ear, or something to that effect. Hoodman's E2000-15 has no moving parts, no batteries, no power cords, no glue, and few sentences of instructions.
Remove Eclipse from its storage bag and the E2000-15 pops into proper shape. Place it over your PowerBook screen, and you're ready to compute.
Our E-2000 was tested under severe environmental conditions: the Sonoran Desert at high noon in April. Using the hood under a covered patio made the screens of both our PowerBook G4 and Blueberry G3 iBook easily readable.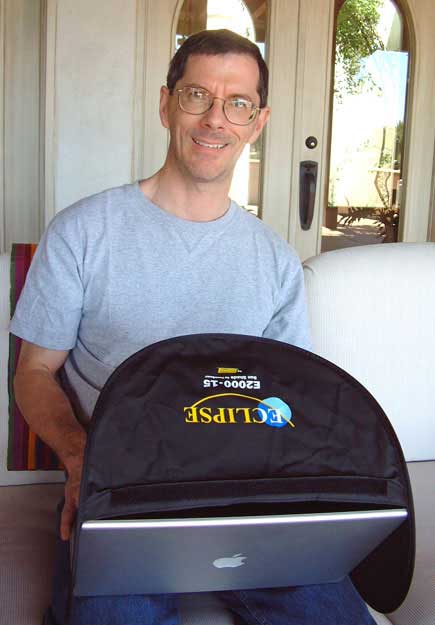 The only problem that Hoodman must address, aside from confused stares of passersby, is that Eclipse rests above a silver PowerBook keyboard in such a manner that the first rows of its keys are not very visible. How about a white bottom section, for enhanced reflectance?
Having dropped out of typing class in my junior year in high school, I'm still a huntnpeck typist, unable to see the eclipsed keys well enough to type. Hey — maybe that's why it's called — bad joke.
My aluminum 15′ PowerBook has an illuminated keyboard, but its light sensors are not shaded by the hood so the keys don't light up. My colleague Nemo, in contrast, who burns up the keyboard in excess of 90 wpm, has no such trouble when performing touch typing.
After concluding phase 1 (shaded patio) we moved into phase 2, direct sunlight exposure. We took my PowerBook out into scorching Sonoran Desert light with the sun at our backs
and found that my G4/PB's screen was still bright enough to be useful.
PowerBook keyboard illumination is not a problem out in direct sunlight, nor with Nemo's mighty Blueberry iBook in the bright shade, because it has white keys!
My wife saw the Eclipse, laughed and said "Whazzat?" then placed it in an usual location. Wise guy comments not welcome.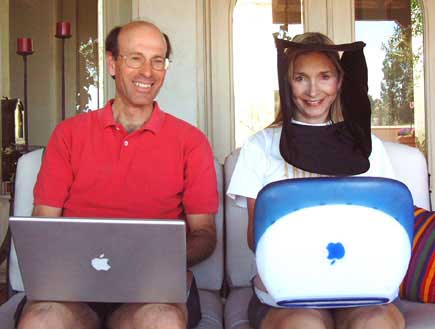 Would I purchase and use Hoodman's E2000-15? If I had a need to compute outside and wasn't concerned about ungainly appearance I'd buy it in an instant. But I'd need to learn to touch type.
Nemo reminds me that the three "Hoodman Hoodlums" at last January's Macworld Expo were indeed very fashion-aware, being the best dressed reps and vendors at Moscone Center.