PowerMail 4.2.1
Company: CTM Development
Price: $49 US, $149 US for 5-user license
http://www.ctmdev.com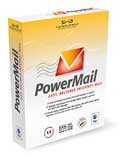 When I first started using a Mac, one of the first things I did was run out and buy myself Claris Emailer that quickly became my email program of choice. I continued to use Emailer until 1998 when time, OS changes and a definite lack of interest on Apple's part caused me to part ways with a terrific program. I checked around and found PowerMail 2.0.3 by CTM Development and I have continued to use PowerMail as my primary email program ever since.
Now in version 4.2.1, PowerMail utilizes the PowerMail Engine™and provides a fast, clean and basically easy to use email program for Mac users. Using a brand new CTM FoxTrot™high-speed search technology, it permits greatly faster searching and indexing of the messages. With 9 years of experience behind it, PowerMail permits users of Emailer, Entourage, Outlook Express, Communicator and even Apple's Mail application to import their items over to PowerMail. Installation is fast and easy, simply drag the PowerMail folder over to your application folder on your hard drive and you're set. Setup is quick, and the application itself is simple and clean. PowerMail permits the user to set up multiple user accounts, both POP and IMAP, and to automatically synchronize PowerMail's address book with the OS X address book.
PowerMail's floating toolbar permits users to quickly compose new mail, add attachments, print messages, respond or forward, search, open the address book and check for mail. The mail browser window itself can be set up to view the users' mail boxes and folders in either a long or short pane view, present mail already downloaded and within the folders or in a mail box and a preview pane to see what's contained inside the message.
Good Points– ease of use, FAST, great search features, multi-user capable, POP and IMAP capable, has a "Recent Mail" interactive log window that permits you to quickly process mail and the text clipping feature is great as it permits you to send some content without having to send the entire message back. Perhaps one of the best aspects of PowerMail is the fact that it is compatible with Mac OS 8.6, 9, 10.1, 10.2 and 10.3. The PowerMail digest that one can sign up for is a great tool if you're not sure of a function or can't figure out how to do something with PowerMail; send a message and someone will quickly respond back to you (and the PowerMail team does monitor the digest itself and respond back with answers to questions)
Cons– poor help available online at the CTM website, it does not correctly display certain HTML messages but permits you to view them by utilizing your web browser, and the spam filters just don't do the job very well. If you're really into HTML messages, then you won't be happy with PowerMail.
System Requirements: PowerPC or better, G3 or later is preferred OS 8.6, 9x, 10.1.10.2 and 10.3.
Recommendation: Download the 30-day demo of PowerMail and give it a try.