Concord EyeQ 3341z Digital Camera
Company: Concord Camera Corp
Price: $180 US (approximate street price)
http://www.concord-camera.com
We began receiving favorable promotional announcements and press releases for this new brand of digital still camera during the recent Las Vegas Photo Marketing Association show, so we decided to follow up and spend a few weeks with Concord's entry level unit, the Concord EyeQ 3341z.
The physical camera is very small and light, with well-located controls and menu options. Its high-impact plastic case at first felt flimsy, but now I'm used to it, with no serious gripes except for a rubberized cover over the USB port, similar to many digital cameras from different manufacturers.
The shipping components are generous, including a versatile (if extremely slow) 4-battery charger that accommodates both AA and AAA size batteries. This camera uses two of the former, which are provided.
Concord gives users a thorough, extensive printed manual written in English, French, German, and Spanish. I needed to refer to it several times, and writing and illustrations are accurate and straightforward. Two additional slim printed booklets provide info for the charger and for Quick Start setup, both written in six languages, with Italian and Dutch added to the aforementioned multinational slate.
The manufacturer provides a USB camera cable, wrist strap, and high-quality neoprene and velcro case. In addition to their printed manual, additional support is available via telephone (toll-free!) and the Internet.
If you're familiar with any other digital still camera, basic setup and operation are effortless. You'll be taking your first snapshots in a few minutes, once the batteries are charged. SD card compatibility is a plus.
The 3341z also has a high-quality video mode, which I didn't try. My experience with videos made on still cameras is consistently disappointing, and Concord's 16MB memory card would fill up too quickly to pursue this avenue very far.
Let's face it — the majority of entry level camera purchasers will exclusively use auto mode for their still photos, leaving many (if not all) fancy enhanced features unused during a typical product lifespan.
Transferring images to your Macintosh running either OS 9 or X is as easy as reading this sentence, so no concerns there. Reviewing and deleting pictures is simple, once you get used to a three-step "Are You Sure" fail-safe final warning.
Zoom lens operates as it should up to 3x, and framing is as accurate as expected from such a basic consumer model. The viewfinder and LCD can be set to display a bewildering array of "helpful" icons, which I found to be distracting during general-purpose photography.
The flash snaps quickly, but its coverage is not extensive. Image quality from Concord's lens is best when outdoor lighting conditions are ideal, but every photo I took exhibited unacceptable color shifts.
How is this possible? For reference I duplicated all test images using my old-faithful Fuji FinePix 2 megapixel pointnshoot digital camera. Comparisons were stunningly in favor of the Fuji, meaning Concord has a color accuracy problem that needs to be addressed immediately. Here are four dramatic examples, and you can be the judge. Neither photo has been altered in any way.
The 2.0 MP Fuji FinePix Picture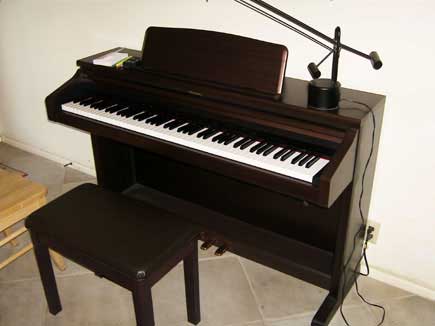 The 3.1 MP Concord EyeQ 3341z Picture
.
The 2.0 MP Fuji FinePix Picture
The 3.1 MP Concord EyeQ 3341z Picture
.
Rear LCD brightness and contrast are unspectacular, which is typical for low-end digicams. Why don't camera makers spend a little more $$$ and time on display presence and a lot less $$$ on featuritis?
Specifications:
3.1 Megapixels, 2048 x 1536 Resolution
1.5″ TFT Color LCD Display
16 MB Memory, External SD Card Slot
12x Zoom (3x Optical, 4x Digital)
Macro Mode, Continuous Shooting Mode
AVI Movie, 30 fps at QVGA
6 Preset Scenes
Compatible with Windows® 98/2000/ME/XP and Mac OS 9.0 and higher
MyMac.com cannot recommend this Concord camera. Accessories and support are first-rate, but image quality is not.
MyMac.com Rating: 2.5 out of 5