HP Photosmart 935
Company: Hewlett-Packard
Price: $349.99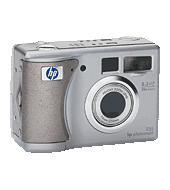 Back at the start of November 2003, I wrote a review of another HP digital camera, the HP Photosmart 435, a 3MP model. That review was hard to write, as I have had good experiences with HP products for a number of years, and the 435 was simply the worse HP product I had ever used. To give a fair review, I had to score that camera very low, and a part of me just could not reconcile the fact that HP had made a bad product.
With the HP Photosmart 935, I feel that HP has vindicated the trust I have always felt for their products. While not perfect, and in fact flawed in a very few places, the HP Photosmart 935 is a great camera, one I would happy replace my aging Kodak with.
The HP Photosmart 935 is a 36-bit 5.3 –megapixel digital camera sporting 3x optical zoom lens, using a 7.6MM – 22.8MM Pentax Zoom lens. It also has 7x Digital zoom, which for any serious picture taker or photographer knows to avoid like the plague. (Digital zoom is worthless if you want quality pictures.)
The 1.5 inch backlit LED (521×218 pixel) digital viewfinder is remarkable in its clarity, but suffers from the same ailment most viewfinders on digital cameras does, which is blurry and hard to view from any angle except right behind the unit. Not a criticism of the 935, but simply pointing out the need for better LCD's in all digital cameras.
The controls are easy to use, in both settings and operation. Too many cameras try to pack as much controls as they can on the top and back on their digital cameras, and while there are quite a few on the 935, all buttons and controls are easy to use and in appropriate spots, rather than a hodgepodge of tiny buttons clustered together. Kudos to HP for understanding that a degree in engineering should not be needed to simply change shutter speed, or even turn on/off the viewfinder to save battery life.
Speaking of battery life, I found that the HP Photosmart 935 goes through them like there is no tomorrow. A brand-new set of Duracell batteries (the 935 uses two AA for power) only lasted for fifty pictures before running too low to allow the viewfinder to work. While battery life can be prolonged simply by not using the viewfinder, getting close to 250 pictures before needing a battery change, I found that the 935 still used up batteries faster than any of the previous digital cameras I have used. I do applaud HP for using standard AA batteries rather than the more expensive, and harder to find, CR-V3 variety, power consumption may be an issue. Look for rechargeable batteries for this unit.
Like most consumer digital cameras, you are unable to purchase or use better lens with the HP Photosmart 935. If you are looking for a professional digital camera, look elsewhere. If you are looking for a good quality digital camera for family holiday photos, or to take snap-shots with, and would prefer not to have to run every photo you take through Adobe Photoshop to color correct every photo, you will like the HP Photosmart 935.
Storage on the 935 is the tiny SD (Secure Digital) card. The 935 ships with one 32MB card, which you will want to upgrade to a larger size quickly. At 5.3 MP, you will only get 23 pictures on the included 32MB SD card.
Exposure settings include action, landscape, and portrait. You can also set white balance, aperture priority, metering, and the above-mentioned ISO speeds.
Picture quality was fantastic, taking good pictures in very bright and very dim settings. The built-in flash worked well on a cold December day during our town's annual Christmas parade. Objects as far away as twenty feet, using the 3X optical zoom, showed surprising clarity. The flash lit-up the area in focus very well.
One complaint, however, would have to be the design. I like it just fine, if not a little too boxy in shape, but this camera is defiantly not marketed for left-hand users. While I am right handed, I did have a lefty try out the camera. His first (and only) complaint was that is simply was not made well for left hand operation. Not comfortable for him.
The Photosmart 935 also can be used as a small video-audio capture device, in 120 seconds MPEG file. You will need to use the included (but clumsy and un-Mac like) HP Director software to extract the MPEG's. While no substitute for a real digital camcorder, the MPEG quality was surprisingly decent for such a small device. The audio was adequate as well.
For an extra $80 US, you can purchase the HP Photosmart 8886 camera dock, which allows connectivity to a television, as well as the ability to recharge batteries. A wise investment if you plan on purchasing the Photosmart 935. I would have liked to be able to connect the Photosmart 935 directly to a television without any dock, as many other digital cameras allow you to do.
A few novelties I enjoy about the Photosmart 935:
The ability to have the camera sounds on/off, with two volume levels.
The NTSC and PAL compatibility.
Blight and clear menu for settings.

All in all, this is a better than decent digital camera. Battery life is a serious issue. During my review process, I went through quite a few batteries, and it became noticeable how quickly I had to change them when I went through a twelve-pack of Duracell's in a few days, and had less than 300 pictures to show for it.
The specs:
Resolution
5 MP: 2608 x 1952 pixels; 1 MP: 1296 x 976 pixels
Bit depth
36-bit
Lens system
f2.6-f5 wide, f4.8-f9 tele Pentax lens; glass with 2 glass molded double aspheres; 3x zoom autofocus (7.6 to 22.8 mm) (35 mm equivalent 37 to 111 mm)
Focal range
Normal (default) Auto focus range of 0.5 m (19.7 in) to infinity, Macro Auto focus range of 0.14 to 0.7 m (5.5 to 27.6 in) at wide, 0.4 to 0.7 m (15.7 to 27.6 in) at zoom ranges greater than wide, Infinity Focus is fixed at infinity
Picture mode
Action, Portrait, Landscape
Viewfinder
Point-and-shoot-type separate 3x real image zooming optical range finder with 78% coverage
Imaging technology
AE, EV Comp, Shutter Priority, Aperture Priority, Picture Modes (auto/manual), White Balance (auto/manual), Metering (spot, CW, average), Saturation control, Contrast control, Sharpness control, Resolution and compression settings
Image control functions
Color (color, black and white, sepia)
Memory, std.
32 MB SD (Secure Digital) card
Shutter speed
15 to 1/2000 sec
Shooting mode
Single shot still, self-timer, self-timer two-shot, movie mode
Connectivity
USB 1.1
Connectivity, optional
HP Photosmart 8886 Digital camera dock, AC adapter
Power supply
2 AA batteries [Photo Lithium (lithium-iron disulfide), Alkaline, or Ni-MH], AC adapter, or optional camera dock
Compatible operating systems
Microsoft® Windows® 98, Me, 2000 Professional, XP Professional, XP Home Edition; Mac OS 9.1 and higher, OS X 10.1.5 and higher
Pros:
Ease of use
Great quality pictures
Somewhat compact size
Great accessories, multiple USB cables
Easy battery and SD memory card access
Great quality LCD
Decent recycle time between pictures
Competitive price
Cons:
Left-hand unfriendly
Power Consumption

MyMac Rating: 4 out of 5