Adobe Photoshop CS4
Company: Adobe Systems, Inc.
Price: $699
http://www.adobe.com/
ABOUT THIS REVIEW:
As I worked my way deeper and deeper into the many features and changes, it became obvious that there was no way to lay it all out for you. Frankly, I don't see how anyone can adequately review an app this large and complicated. It's taken me a long time to get ready for this — in fact, I'm still not ready, but a six-month delay is long enough. Read on to see if anything surprises you!
OVERVIEW:
My version of Photoshop came with the review copy of the CS4 Master Collection. A brand new stand- alone version at full retail price will set you back $699 at the Adobe Store, but a quick Google search will reveal other options. And if you own virtually any older version of Photoshop or the Creative Suite, Adobe probably has an upgrade deal for you. Don't think you're necessarily priced out of the action! You can upgrade from CS3 for only $199, for example. For the record, the current version of the app itself weighs in at 258.8 MB, a hefty increase over CS3's 216.9 MB, and that should tell you something.
But what, exactly? It just keeps getting bigger and bigger. Do you really need to keep buying the new versions? In other words, with so many of us dependent on Photoshop for image editing and creative work, is maintaining Adobe's profits and goodwill the real game in town, or have they honestly built a new version of Photoshop that's worth the money?
WHAT'S NEW IN PHOTOSHOP CS4?
The best thing to do is visit this page, where you'll notice the following new features:
1. Smoother panning and zooming and fluid canvas rotation: "Navigate to any area of an image with new, ultra-smooth zooming and panning. Maintain clarity as you zoom to individual pixels and easily edit at the highest magnification with the new Pixel Grid. And use the revolutionary new Rotate View tool to smoothly turn your canvas for distortion-free viewing at any angle."
2. Adjustments panel: "Simplify image adjustment by easily accessing every tool you need to nondestructively adjust and enhance the color and tone of your images; on-image controls and a wide variety of presets are also included in the new live and dynamic Adjustments panel." (Very cool, BIG time saver!)
3. Masks panel: "This panel offers all the tools you need to create editable pixel- and vector-based masks, adjust mask density and feathering, easily select noncontiguous objects, and more."
4. Content-Aware Scaling: "Use the new and revolutionary Content-Aware Scaling feature to automatically recompose an image as you resize it, smartly preserving vital areas as the image adapts to the new dimensions. Get the perfect image in one step without time-intensive cropping and retouching."
5. File display options: "Easily work with multiple open files by using tabbed document display or n-up views."
A number of other features have been "enhanced" and do work better, including the reengineered Dodge, Burn, and Sponge tools. Nothing to sneeze at here. All of this is wrapped up in a slightly modified interface, especially evident in the "Save for Web and Devices" window, which we'll be looking at below.
HARDWARE & INSTALLATION:
I originally installed the entire Adobe Creative Suite 4 Master Collection on a 1.83 GHz MacBook with 2 MB of DDR2 SDRAM and a 160 GB Hitachi 7200 rpm hard drive. Photoshop runs just fine with this configuration, you'll be happy to know, and even better on my current desktop machine, a 24″ iMac (3.06 GHz Intel Core 2 Duo, 4 GB 1067 MHz DDR3 memory, 1 terabyte 7200 rpm hard drive). Lots better, in fact, and working with my photos on the big, bright screen is pure joy.
THAT DARNED INTERFACE:
Okay, check out the "Save for Web and Devices" windows for the same image in CS3 and CS4. I adjusted each one to take up slack around the photo before taking a screenshot, so the UI text would be the same size in each one: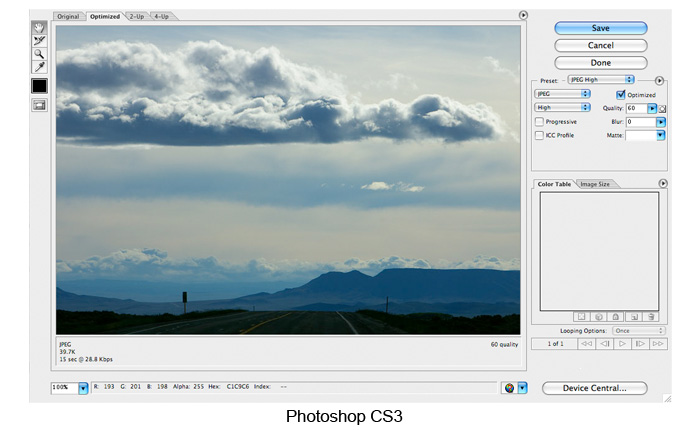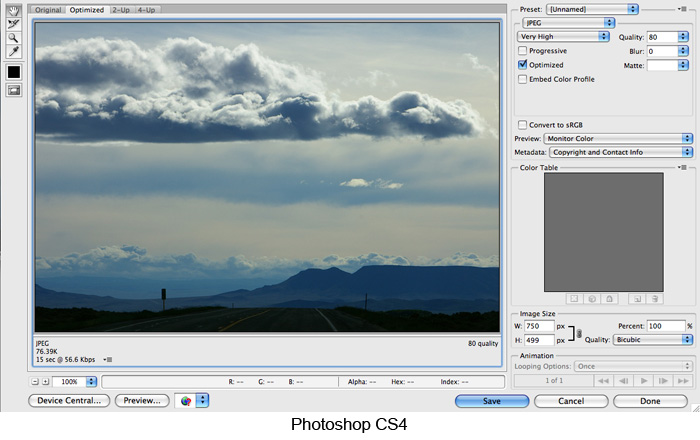 The CS4 version of this window is larger by almost 100 pixels. It also has a few more options, and the image itself is surrounded by a thin black border. The major change, however, is the placement of the Save, Cancel, and Done buttons, which now are at the bottom right corner of the window instead of top right. Is this a good thing?
I honestly don't know. You'd think there was an ergonomic reason for moving them, but maybe it was just an afterthought when someone realized there wasn't room for them after adding the Image Size info box below the Color Table box. Even after six months with the software, I still find myself flinging the cursor to the top right-hand corner to save an image! But what's truly aggravating is that with the window taking up most of the screen on my MacBook, the Save button is perilously close to the Dock, which I keep at the bottom: I have to be very careful how I move the cursor, or else there's a magnified Dock icon hopping up and getting in the way. The problem is much less evident on my iMac, obviously, but laptop owners may curse a lot.
FINAL OBSERVATIONS & CONCLUSIONS:
This being Photoshop and me being me, I'll never be able to use every single new and enhanced feature. But Photoshop is an app that makes you say, "Wow! I never knew I could do THAT!" The new Adjustments panel is probably the best toy I've used so far, automatically creating adjustment layers for every tweak I want to try. To compare the Photoshop CS4 version to CS3, just peruse this chart. Beyond that, we're down to the minor but irritating interface changes, and hopefully I'll eventually get used to those.
If all you do with your old version of Photoshop is crop, resize, and adjust your photos, you don't need to upgrade. As far as that goes, I probably don't need the latest version myself, although I'm very happy to have it. Is CS4 intrinsically worth the $199 upgrade price? Absolutely! If you don't have an older version and want an app to edit photos for the Web, say, is Photoshop CS4 the way to go? Not unless you're wealthy. (For any kind of professional image work, sure. Of course. We live and die with Photoshop.) In any case, the full Creative Suite 4 is a MUCH better deal, considering what's included, and that's always the way to go if you or your employer can pay for it.
But can you run it?
MAC SYSTEM REQUIREMENTS:
• Power PC G5 or multi-core Intel processor
• Mac OS X v10.4.11–10.5.7
• 512MB of RAM (1GB recommended)
• 2GB of available hard-disk space for installation; additional free space required during installation (cannot install on a volume that uses a case-sensitive file system or on flash-based storage devices)
• 1,024×768 display (1,280×800 recommended) with 16-bit video card
Some GPU-accelerated features require graphics support for Shader Model 3.0 and • OpenGL 2.0
• DVD-ROM drive
• QuickTime 7.2 software required for multimedia features
• Broadband Internet connection required for online services
That "512 MB of RAM" is something of a joke. I can report that 4 GB does make Photoshop CS4 get up and scoot, however.
MYMAC RATING:
I'd give this 4.5 or even 5 if it weren't for those new Save buttons and the off-putting anti-piracy measures that make life more difficult for paying customers. Nevertheless, this rates a very comfortable 4 out of 5.
email – MyMac Magazine – Twitter – Advertise – Reviews Archive – Podcast