On Saturday, January 31, 2009, I attended the Teens in Tech conference. This was a gathering of very smart, entrepreneurial young men and women, mostly in their teens, and their chance to meet with others in the tech industries. Attended by well over 100 people of what appeared to be a great mix of young and old, and hosted by Microsoft in San Francisco, this was an great chance to hear what the next generation of tech wizards had to say about the state of tech, and where they believe it is going.
Teens in Tech was founded and run by someone not unfamiliar to this sight, Daniel Brusilovsky. At age 15, he introduces himself as the CEO of the company. Someone who does not know him might be inclined to giggle at this title for such a young person, but when you are done smirking here, realize that this young man might just be your boss in the next 5 years, and I for one would be happy for the chance to work for him. He is smart, eager, and enthusiastic about tech, and he seems to know just about everyone in the industry. So much so that the Teens in Tech conference was able to give away nearly $10,000 in donated prizes from some very generous sponsors, including Microsoft, Adobe, Intel, Eye-Fi, Rickshaw Bagworks, Speck, JBL, Blue Microphones, BudFits, Radtech, PosiMotion, tatango, Ultimate Ears, Western Digital and Mighty Leaf teas. Drawings for prizes went all day, with amazing prizes like Eye-Fi cards, JBL speaker systems for iPods, and the prize of all prizes, 3 copies of Adobe Creative Suite Master Collection. Valued at over $2400 each, Adobe donated several copies won by several lucky people in the audience. In addition, Teens in Tech gave generous gifts to all the speakers, and every person attending the conference was given a Rickshaw Bagsworks Zero Messenger bag filled with a number of goodies as well.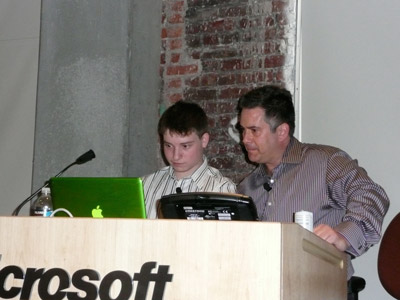 Daniel is guided and helped by another familiar person to Mymac.com, Sam Levin. As co-chairs to last week's conference, these two guys did an amazing job presenting some young, very interesting "entrepreneurs" under the age of 20 in talks that kept my attention from the start near 10 AM through the final session near 6 PM.

To see a list of speakers, go here. Suffice it to say, these young people knocked my socks off, especially the 18-year-old Danny Trinh, who graduated high school just 6 month ago in North Carolina, moved to the west coast, and is now a designer at Digg. This young man is an amazing speaker, has a great sense of humor, and will probably earn his first million by 25 if he has not done so already.
The young man sitting right behind me particularly impressed me as well. His name was Jake Mates, and he was sitting with his own MacBook and iPhone, paying very close attention to what people had to say. When I asked him what he did, he handed me a metal business card with his name and website address laser engraved into it. Not big deal, except Jake is only 11 years old and is already creating website for money. And his work is fairly good too, and suggest you check out his own site, or even consider using him if you need some website work done. And if his phone number is correct, Jake traveled from North Carolina to be at the conference. Just how cool is that?

There were various sessions on a variety of topics like going green and the importance (or lack of) of getting an education, and also including some great panels on Teens to Entrepreneur, Teens and Video, and my favorite, Teen Developers, which quickly broke down into a Teen Geeks and Dating Advice from the audience. To see the entire agenda, go here.
Ustream streamed much of the conference live; well, for as long as the sad Internet connection supplied my Microsoft kept them live. Sadly, Microsoft's large room that easily held more than 100 people offered only a partial Class C address space of less than 55 IP addresses to all guests. As you can imagine, almost every participant had at least a computer and one other Internet device like an iPhone, so the available addresses were used up immediately, and the rest got nothing. (Microsoft says this will be fixed shortly!) However, it was amazing to see just how much technology these young people carried as the Internet cell cards and connections to cell phones started showing up to keep people on line. This was important, as the entire conference was also covered on Twitter, with questions and comments from the audience arriving by Twitter and displayed on the big screens rather than the more conventional raising of hands. You can see the tweets from the conference here and eventually they hope to have all the presentations up there as well. You can follow the continued action at #teensintechconf on Twitter. It should also be pointed out that about half way through the conference, the Twitter action on the conference was so busy, that the conference became the most talked about subject on Twitter, taking the number one spot away from the Super Bowl!
Hopefully this event will take place again next year, and I encourage anyone young or old to attend. It will knock your socks off to be sure! Here are some pictures of the conference, and check out their website for more info.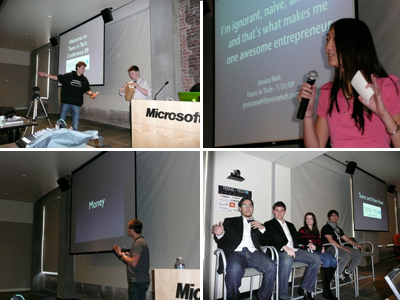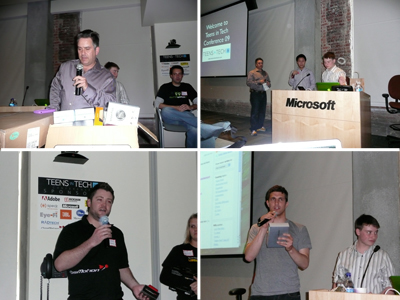 email – MyMac Magazine – Twitter – Advertise – Reviews Archive – Podcast