A true Mac user would never be caught buying a Hallmark greeting card when he or she has TextEdit, AppleWorks, Pages or some other graphic layout program installed on his or her Mac.
If you have Pages installed, you can whip a out nice Mother's Day letter that will be more meaningful and personal than all the store bought cards you've purchased in the past.
What you will need: Pages (AppleWorks or TextEdit can also be used), your iPhoto photos, and loving words.
1. Open up Pages and select New. The Pages template window will appear. Select Journals and then select Travel Journal. Of course there are other templates that you can select to fit your own personal content. I suggest using a template to save time and focus more on content than designing a layout from scratch.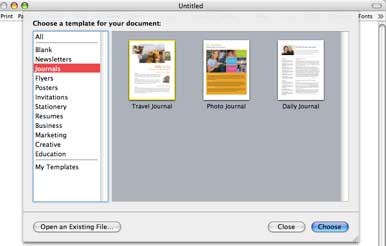 2. Go to View>Show Media Browser. This will bring up your iPhoto images.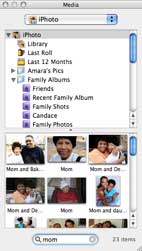 3. Find pictures of your mom or which ever photos you would like to use with your content. Simply drag selected photos into places where photos already exist. You don't need to resize or delete those existing photos, just replace them with your own. You can also delete existing photo frames that you don't want. But for me, more pictures means less writing! Just kidding. Pictures just make for a more effective looking letter.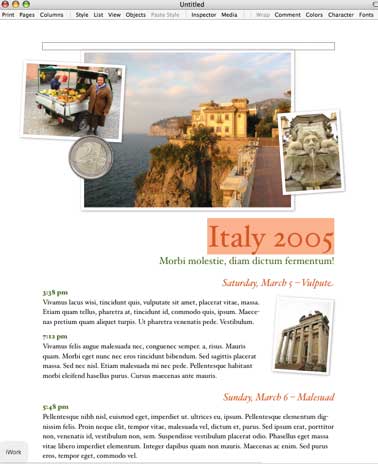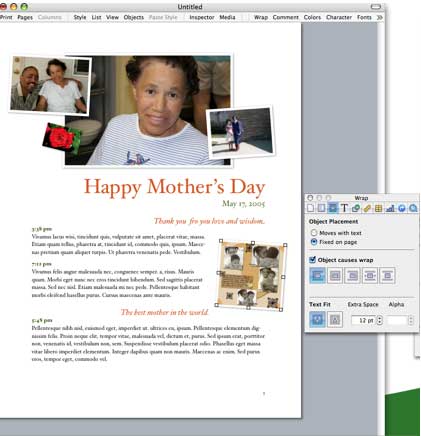 You can also move selected frames and resize them by selecting View>Show Inspectors. In Inspectors, select Wrap–the third item from the left. Select "Fixed on page" and then select the picture frame you want to move and/or resize.
4. Highlight the Text frames in the document. Change their content with your own. To increase or decrease the size of the headings and sub-headings, select the text and do a Command T to bring up the Font editor. In the editor, you change the font type, color and style of the text. If you're crunched for time, simply use the existing font styles.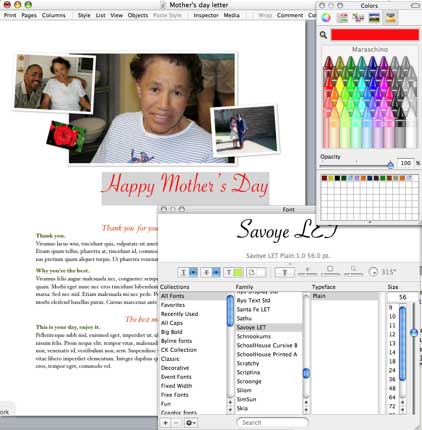 5. To get rid of the page number at the bottom of the document, click right next to the number. The footnote frame will appear. Highlight the number and delete it.
6. Finally, the hardest part. Highlight the dummy text in the Text frames and write your content. You can do it. She's mom.